Looking back over Christina's pics of Ani, the old Armenian capital on the silk road, I remember noticing an interesting problem for our ancient city planners.  The city is designed for safety out in the middle of the grassy steppes of what is the Eastern edge of Turkey.  (The mongols, we're told, were not impressed)  So you set aside an area and build massive stone walls around it to keep everyone inside.  For the most part, once you are inside such impressive walls looking out, people felt pretty safe.
That leaves only the ticklish problem of what to do with your nuns…
To look at the pictures, I'm guessing the nuns in this area needed to be *extra safe*.  The first picture you see has two elements I'll point out to you.  The first is the hill on the right side of the picture, on top of which is the site of the old city keep.  This would be the location of last resort in defense of the city, and the source of all your weapons and people to wield them.  That spot needs to be pretty secure, and so was built inside the city walls on a prominent hillock near the gorge.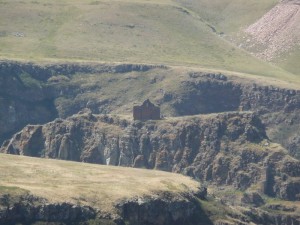 Now look at the center of the picture and you will see how much more secure you need your virginal nuns to be.  The old nunnery is built on a clifftop….in fact on an isolated crag… in the middle of a river…. which we were told used to have a suspension bridge….
Presuming for a moment that architectural form follows function, it seems apparent that your virtuous nuns virtues needed protecting like the crown jewels themselves!