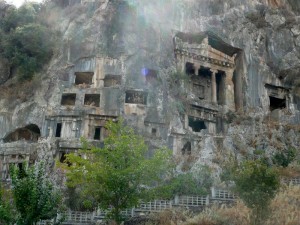 In the cliff-faces above town in both Kas and Fethiye in Turkey, we saw what is left of the burial traditions of the Lycians.
The Lycians didn't build pyramids for their dead or cremate their dead on barges afloat on sea, instead  they carved resting places into the mountainous landscape.
These rock tombs are from the 4th Century B.C. They are very elaborate and impressive, and seem to be purely carved from the rock face. No stone added on top or afterward. (Except perhaps to block the entrance to the interior where the remains would have been laid).
I am especially impressed by the ones carved above ground level. Look closely for a glimpse of Lycian writing.