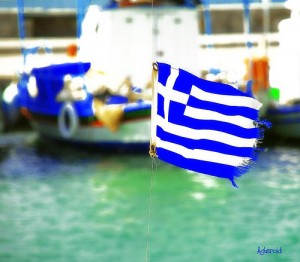 We've crossed another border.
We're now in GREECE, or Ellas – if you're Greek, or Yunanistan – if you're Turkish (I'd love to know the origin of that name… You can imagine our confusion and surprise as we started following signs out of Turkey and Yunanistan seemed to also be in the direction we were headed…)
Home of the ancient philosophers, cheap white wine (Retsina), the Greek alphabet, souvlaki, gyros and Greek salad. So far we're doing quite well on our checklist of things Greek to experience.
We're halted in Alexandropoulis at the moment and are again amazed by the enthusiastic cafe culture and late night outdoor dining. The restaurants seem most full around 9:30 pm.
This means that our travel country count is now 11. We've been on the road 7 months and have traveled in our van Veronique 11,200 miles….
CONGRATULATIONS to Gaye, Tricia, Iain and Dick for their guesses in our HOW FAR? contest.